Pauline Jennings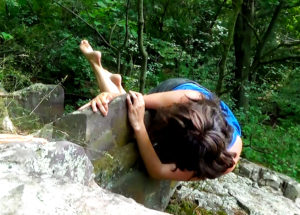 As a professional choreographer, Pauline Jennings is compelled to solve questions through her body and its relationship to others via responsive systems. She finds that working with people, rather than static media, offers limitless degrees of individual capabilities, modes of expression, and errors rich in potential for learning. Rooted in that belief, her choreographic method is aimed at providing a journey or learning experience for both dancers and the audience. Jennings aims to offer an experience akin to landing in a foreign country, going first to a busy cafe and observing sounds, sights and smells, excitedly searching for familiar gestures, patterns and relationships while ever so slowly attempting to discern details that aid in understanding the big picture. It is important that both the dancers and audience partake in this journey together – neither party quite knowing all of the details at the start of a performance, but discovering them together along the way. Developing emergent forms, responsive systems, and modes of audience interactivity has enabled her to choreograph in this manner. Emergent work further demonstrates and attempts to viscerally capture the excitement, confusion and fear that accompany our rapidly changing society. Through her work, Pauline hopes that viewers will have an opportunity to reflect upon and take a more active role in determining their own evolution.
Jennings' choreography for stage and interactive installations has been performed in festivals and showcases nationwide, including the San Francisco Museum of Modern Art, Merce Cunningham Studio, EMPAC (Emergent Media and Performing Arts Center, RPI), and ODC Theater. Internationally, her work has been shown by venues including the Museumsquartier Wien, Institut Intermédií (Prague), ProART International Choreography Platform (Brno), Eastern Bloc (Montreal), Primo Piano LivinGallery (Lecce), and Takt Kunstprojektraum (Berlin).
In 2013, Jennings was commissioned by Heidi Boisvert to create a fully emergent, three-game level work that premiered at the Emergent Media and Performing Arts Center (EMPAC). [radical] signs of life was "one of the first large-scale game-based experiences to use wearable biotechnology to integrate networked bodies and interactive dance. Through responsive dance, the work attempted to externalize the mind's non-hierarchical distribution of thought and its relationship to other biomimetic structuring principles," according to director Heidi Boisvert. [radical] served as a springboard for creating additional fully emergent and responsive works for stage. In Encrypted Trajectory, five dancers navigated a framework of rule-based systems in a shared mission of discovery and survival. Throughout their very real struggle, dancers tested societal structures of leadership and rebellion through fleeting coalitions. Pauline recently presented an interactive installation and served on a panel, Interactive Technologies & Movement, at 20th International Symposium on Electronic Art (ISEA), Dubai, United Arab Emirates, where she had the honor of discussing responsive systems in performance.
Currently, Jennings is choreographing a collaborative dance for camera work, Mutable Spirals of Ascension, that attempts to explore the sensuous wild inherent in the natural world, which modern humanity has sought to separate themselves from. The piece will follow two dancers through a series of interwoven site-specific works, inviting the viewer to explore the sensuous 'wild' in an intimately visceral and visually symbolic journey. Mutable Spirals of Ascension will be premiered in San Francisco, October 2018.
Now based in Burlington, VT, Jennings teaches dance at Saint Michael's College in Vermont. She was previously a 2008-2009 Visiting Artist for the Mills College Dance Department's Repertory Dance Company and has also lectured and taught master classes at the University of Applied Arts (Vienna), University of California at Berkeley, Arizona State University, Amherst College, Dartmouth College, University of Maine, College of Santa Fe, and University of New Mexico. Jennings holds an MFA in Dance Choreography and Performance from Mills College.
Sean Clute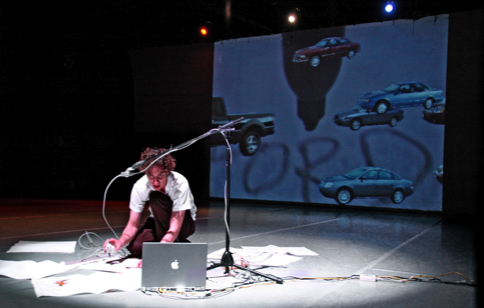 Sean Clute is an inventor of sound, video, installation, and performance. As Co-Artistic Director of DOUBLE VISION, Sean has organized, curated, and performed in numerous events including Evolutionary Patterns and the Lonely Owl, Involution 2 (Brooklyn), 13 Dreams of a Dying Clairvoyant, and Equinox 12 11 11 Kimi Yax. He has built and performed in geodesic domes, suspended pods, and interactive sonic environments. His diverse creative activities have been presented at venues such as The Kitchen, CEAIT Festival, San Francisco Museum of Modern Art, TED2005, Uspannwerk Kreuzberg (Germany), Shabla Solar Eclipse Festival (Bulgaria), La Case A Chocs (Switzerland), La Ma Ma etc., Times Square Deli Dance, CBGB's, REDCAT Theater, University of Illinois Urbana-Champaign, California College of the Arts, Mills College, and California Institute of the Arts.
Sean has also been recognized with a Fulbright Award and residency at the MuseumsQuartier Wien in Austria, a Djerassi Resident Artist Award, and a Meet the Composer Award. He has an extensive background in music and intermedia art and holds an MFA in Electronic Music and Recording Media from Mills College where he was awarded the Music Alumnae Scholarship, Crothers Award, Hellman Award, Lynn T. White Award, and Frog Peak Collective Experimental Music Award. Additionally, Sean was awarded a scholarship to attend The Kitchen Summer Institute in New York City and a recent scholarship to attend the Anderson Ranch in Colorado. Sean holds a BA in Music at the University of New Mexico where he studied classical guitar and composition.
Sean has also worked in performing arts and technology organizations with positions held at Orban/CRL broadcast technologies, Columbia University Music Library, and The Kitchen. He has guest lectured at Cal State University Stanislaus, Mills College, and California College of the Arts on intermedia art and technology.
Sean is the founder of experimental music groups X-Ray Vision Network and Passing Strange, as well as the co-founder the electronic music group Cloud Full of Clowns. He has collaborated on a number of projects with groups Ransom Corp., Amoeba Technology, Jose Roque Ensemble, choreographers Pauline Jennings, Nic Petry, animator Nick Fox-Gieg, musicians Zemi 17, Pauline Oliveros, Jessica Catron, Dorsey Dunn, and designer Ben Coolik.

http://www.seanclute.com/